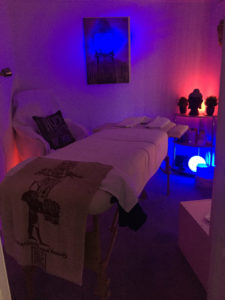 I work from home in a treatment room and I based on the outskirts of Manchester City Centre in M11 4JF or I can travel to your home or visit you at your hotel if you are here visiting for pleasure or on business. The room has a heated massage table, fresh towels for each client, mood lighting, candles, soft music and warm oils (grapeseed and almond oil mixed with lemongrass, others available on request ). Chilled bottled water provided after the massage. Please note home or hotel visits are done on the bed and not a massage table. (request an extra towel if you are in a hotel to prevent oil getting on the bed covers, set the lighting for the massage booked). 
A Naturist Sensual or One on One Body Massage from your hotel or the surrounds of your own home is completely a different experience  from that of one in my treatment room. With the massage taken in the comfort of your own surrounds means that as your massages comes to the end, you can remain in the chilled out zone that I have taken you to, without having to rush to get dressed and  then face the busy Manchester streets or roads. Please be freshly showered for my arrival.
Shower facilities are available for treatment room bookings, if you require this please advise in the comment section when making your booking, so I can factor these into the massage appointment time. Parking available outside the property. Nearest tram stop from Piccadilly Train Station, Manchester is Clayton Hall on the Ashton Line – Details on how to find me from there are included in the email confirmation that is sent you when you make your booking.
Please note that I am freshly showered before each client and wearing deodorant and aftershave.