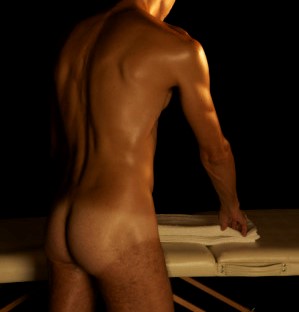 There is nothing wrong with being naked. It has only become a taboo subject in today`s society or a consciousness of the body image that is portrayed on social media and the model/fitness industries. Many people feel embarrassed to get unchanged in the changing room at the gym or to take their tops off outside or on the beach. Being naked is the most natural thing in the world. So, don't worry who is in the changing room and how they look get naked and move on. When you're at home get naked, wander around the house or apartment and feel the freedom of not wearing clothes. Why not book your next holiday to a naturist resort and enjoy laying around by the pool or beach naked and enjoy these full of naked men and woman? There are a few different people opt for a naturist resort from straight to gay couples, it doesn't make you gay being with naked men. The feeling of showering after being in the pool, walking to the bar to order a drink, no insecurities and an all over tan. Naturism is a practice of being completed naked in a mixed social setting. This is one of the most natural things in the world, well you came into the world naked when you were born.
Naturist come in all spaces and size, height and don't judge you on the size of package or age, usually very understanding and caring people who love to live their lives without the restrictions of clothes. Don't think that naturist guys wander around with a constant erection, more than often they are not happily aroused.
A naturist massage allows you to be completely naked in a discreet and safe environment without clothes restricting the masseur`s movement, this allows him to move from head to toe freely ensuring all the knots, built up frustration and tension is released.
There is nothing better than feeling your Male Masseur in Manchester masseur up close and feeling the nakedness of him close as he massages your naked body and getting a glimpse of his package. The sensual naturist massage allows your senses to be stimulated as you feel your masseur close. With the body to body two male bodies close and touching will take you your massage experience to another. A naturist massage is a complete must for anyone.
If you have often wondered what a naturist massage is like, then when you book your next massage opt for this option and find out what being naked has to offer.